Today is the first anniversary of the epic Section 8 creed, Stand and Deliver, written by Fire supporter Brandon Kitchens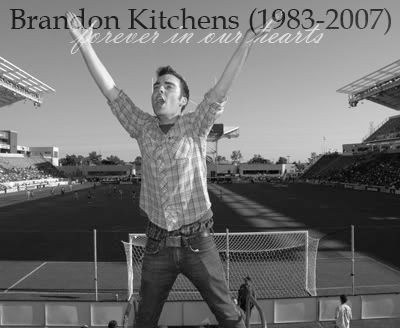 to inspire Fire fans and players.
Brandon
supported the Fire since he was 14 years old. He also supported the United States with four tours of duty overseas as an Air Force intelligence officer. He lost his life last summer at the age of 23. Not on a battle field in the Middle East, but on a soccer field in Chicago playing the sport he loved. Brandon was President of Fire supporters group Whiskey Brothers Aught Five. i was honored by Brandon and WB05 at the
2006 Section 8 AGM
and again last July by serving as a pall bearer. i miss him greatly. His message of Fire support and spirit of living life to its fullest must live on. The beginning of the Fire's season is the time for Brandon's message to be trumpeted.
Here is
Stand and Deliver in its entirety
. If you are a Fire supporter, i encourage you to read it and digest it. Even if you're not a fan of the Fire, reading it will give you more appreciation for anything in your life that you are passionate about.
The last paragraph of Stand and Deliver was written for the team. If you are a Fire player or coach, please read and follow Brandon's passionate plea:
"We will be strong for you every game, no matter our numbers, all we ask is you do the same, it is your PRIVILEGE to wear the colors as it is ours, it is our HONOR to stand behind you, as it should be yours to play for us. If you leave it all out on the field every game nothing can stop us, no matter who we play make 11 into 1, make us proud, and let Chicago be known for all time."
I had planned to pay tribute to Brandon yesterday at the FireWorks For Kids Foundation's Season Kickoff Luncheon. The Fire turned down my request saying the timing wasn't right.
Instead, I will use this forum to do what Brandon would do – get in your face and scream:
"DON'T SIT DOWN AND SHUT UP,
STAND AND DELIVER!
"