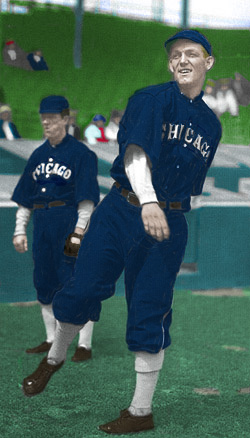 The euphoria of last week's Chicago Red Stars debut gave way to some not so good news yesterday. First, due to the Great Wisconsin Flood of 2008, i had to rip out all my basement carpeting and throw it away along with a few sentimental possessions. Next, a small deer hit my wife's car (it was in the side of the car, so she technically didn't hit the deer, the deer hit her). Ann is fine, but the car and deer have both seen better days. And finally,
"Eight Men Out"
author
Eliot Asinof passed away
at age 88. i read Asinof's definitive book on the 1919 Chicago "Black Sox" scandal when i was a kid. The book made folk heroes out of
Joe Jackson (upper right) and Buck Weaver
(upper left) for me. The story even inspired me to later make pilgrimages to Shoeless Joe's Greenville, South Carolina
grave site
not once, but twice in the 1980s.
While Jackson certainly had some responsibility in the scandal, anyone who saw the motion picture Asinof's book was turned into, knows there were plenty of mitigating circumstances - not the least of which were that he returned the money, he tried his hardest throughout the Series, he had the highest batting average of players on either team in the Series and he hit the only White Sox home run of the Series - that should have relieved him of the lifetime penalty he served. The Weaver banishment was simply absurd and is even more disheartening as he never took any money and in fact refused to participate in the fix from the beginning. Please take a moment to help
clear Buck
. i wonder what
Kennesaw Mountain Landis
would think of
David Stern's
NBA today
...
Well, at least the Fire won its US Open Cup play-in game vs. Columbus last night. Kudos to seldom used (recently anyway) players
Andy Herron, Brian Plotkin, Austin Washington, C.J. Brown, Stephen King, Calen Carr, Patrick Nyarko and Tomasz Frankowski
for helping the Kings of the Cup advance.
Coach Denis Hamlett
is showing how to take the Open Cup seriously while using the team's depth to provide fresh, motivated players.