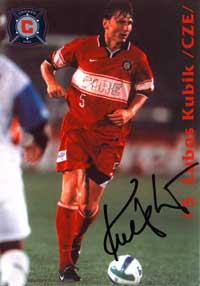 i received a phone call today from Chicago Fire legend and fellow
Ring of Fire member Lubos Kubik
. He was at the airport waiting to board a flight to Hong Kong and the Beijing Olympics where he will serve as Piotr Nowak's Assistant Coach for the United States Men's Olympic Soccer Team.
We talked about getting together in October when he plans to be in Chicago and he offered to help the Chicago Red Stars source players in Eastern Europe.
Lubos has always been one of my favorite people in soccer. He was a very special player, has a great soccer mind and is as kind as anyone in the game.
i asked him to give Piotr and
soon-to-be-new Fire forward Brian McBride
my best and wished him well in China.