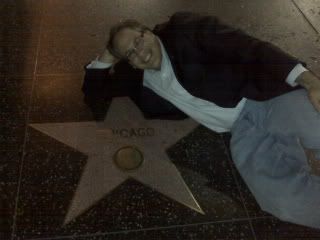 Rumor has it Los Angeles was 75 degrees and sunny yesterday, but i really wouldn't know as i spent sun up to sun down in WPS meetings several stories beneath the surface of the earth in a bunker politely called the Westwood Room on the California Level of the Hyatt Century Plaza on the Avenue of the Stars. i did manage to meet up with a few soccer luminaries in the WPS meeting, in the hallway during breaks and at the Commissioner's Party in Hollywood last night. Here's a roll call:
Pam Perkins
- US Soccer General Manager US Men's National team for the last decade plus.
Ridge Mahoney
- Soccer America, the best soccer writer in the United States
Nick Sakiewicz
- Philadelphia MLS CEO & Operating Partner
Tom Veit
- Consultant for Philadelphia MLS and former XFL GM
Paul Mott - MLS Head of Team Services and former President New Orleans Hornets
Paul Caccamo
- President America SCORES, a great literacy program that uses soccer as an incentive to develop at risk kids in urban areas throughout the United States
Ashley Doneker
America SCORES, National Director of Marketing and Sponsorships
Curt Johnson
- US Club Soccer Sr. VP of Marketing and Former GM of Kansas City Wizards. Curt and i had several prominent disagreements while in MLS, but we've always had a mutual respect. We enjoyed catching up during a shared a cab ride back from the Commissioner's Party in Hollywood.
Bakary Soumare
- We had a nice talk about his decision to accept Mali's National Team invitation and his plan to stay in form leading up to his February debut and anticipated 2010 African Nations Cup participation.
Dwayne DeRosario
- Houston Dynamo and arguably the best player in MLS over the last five years.
Jon Busch
- Really enjoyed talking to Jon and his wife Nikki. One of MLS' true good guys and good to see him rewarded this year with MLS GK of the Year.
Jeff Duback
- GM of
Primo Sports
and former US National Team and Olympic GK in the late 1980s.
Donnie Sandusky
- President Primo Sports
Tommy Isirov
- Member of my first championship team, the 1990-91 Chicago Power
Gloria King - LA Galaxy Manager, Community Development/Director,
Los Angeles Galaxy Foundation
Martha Romero - LA Galaxy Director of Administration
Mary Pat Durkin
- Sales at E&J Gallo and former LA Galaxy Marketer
Dondi Kingsbury
- O'Brien Media Advertising Sports Marketing, Executive Vice President
Yuki Zeigler
- MLS Consultant and former LA Galaxy Executive
Carie Goldberg
- President, Gold Standard Sports

Andy Swift
- Consultant and Former President and GM Dallas Burn. It's always great to see Andy. He's one of my most respected and best friends in soccer. MLS is better off for his years of service.
Maria Vega - Los Angeles Galaxy Manager, Ticket Operations
Kevin Frank
- Senior Marketing Manager, Panasonic
Pat Donnelly - Long time LA Galaxy Director, Communications
Luis Arroyave
- Chicago Tribune Soccer Writer
Bill Sage
- Executive Director US Club Soccer
Craig Sharon
- Director of Business Development and Legal Affairs
Don Garber
- MLS Commissioner and Party Host
Denis Hamlett
- Chicago Fire Head Coach
Ives Galarcep
- Soccer Blogger
Ryan Robbins - Chicago Fire Director of Ticket Sales
Tom Payne
- LA Galaxy President of Business Operations
Tom Mulroy
Founder, Copa Latina
Carrie Skillman - Chicago Fire Coordinator, Corporate Partnerships
Lisa Bregman - Chicago Fire, Marketing Coordinator
Eric Smith - Chicago Fire - VP, Corporate Partnerships
Ted Howard
- CONCACAF Deputy General Secretary
David Sternberg
- EVP COO Fox Soccer Channel
Howard Goldberg
- Player Representative, CDS Soccer Inc. Sports Management
Kathy Carter
- Executive VP, Soccer United Marketing
Mike Gandler
- Business development, SUM
Steven Goff
- Washington Post Soccer Reporter
Craig Merz
- MLSNET.com contributor for Columbus
Andy Mead
- Yellow Card Journalism Photo Service
Charlie Cuttone
- Sports Vue Interactive
Wade Jackson
- Yellow Card Journalism, LLC Partner
Diego and Ginna Gutierrez
- Chicago Fire Legend and his wife who will be honored tonight for work with Nothing But Nets anti-malaria campaign.
Mark Noonan
- President, Focal Sport, LLC and former MLS Marketing Executive
Tim Leiweke
- President and CEO AEG
Dan Beckerman
- AEG CFO and Executive VP
Mike Whitehead - WPS Consulting CFO
Joe Quinn
- Washington Freedom President/General Manager
Sheri Kamakani
- Director of Business Operations, AEG Sports, Los Angeles Sol
Brian and Nancy NeSmith
- FC Gold Pride Owners
Ilisa Kessler
- FC Gold Pride GM
Scott Hanley - VP AEG Sports
Jeff Cooper
- St. Louis Soccer United Owner
Caryn Chasteen
- St. Louis Soccer United President
Joe Cummings
- Boston Breakers President/GM
Jeff Mallett
- WPS Investor
Ian Sawyers
- Sky Blue SC GM and Head Coach
Mary Harvey
- WPS COO
Rob Penner
- WPS Director of Communications
More meetings today and the USC vs. UCLA women's NCAA tournament derby tonight!