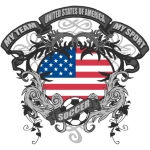 WPS announced each team's home openers this week and if i'm reading it right, your Chicago Red Stars could be featured on national television via Fox Soccer Channel for each of its first three games.
Game 1: Chicago at St. Louis Athletica, Sunday, April 5 at
Ralph Korte Stadium
on the lovely campus of Southern Illinois - Edwardsville. It's a small stadium and it would be pretty cool for Local 134 and other Red Stars supporters to make the
272 mile trip
down there to help the Red Stars win in our first game ever.
Game 2: Chicago at Washington Freedom, Saturday, April 4 at RFK Stadium*. 2009 will be a good year for
Chicagoans in Washington.
And maybe, just maybe, the first family will be on hand to cheer their hometown Red Stars on to victory. Malia is a player! And the
President-elect is a soccer dad.
* i'm just guessing that the Freedom will play their home opener in
the big house
.
Game 3: Sky Blue FC at Chicago, April 19 at Toyota Park. The late home opener is a good thing for us. It provides extra time to sell tickets, its more likely to be a little warmer in Chicago, we get to build excitement via two televised away games and we get to come into our home opener with an unblemished 2-0 mark!
It is exciting to know the date of the opening game and i hope you've all purchased your season tickets already. We hope to make a pretty cool announcement about our season tickets before Christmas. If you haven't gotten them yet, please do so by going
here
. Thank you!